Last Monday, Council voted 6-4 in favour of the Mayor's motion to support the location of the future hospital. During said meeting, the CEO of the Windsor Essex Economic Development Corporation suggested that the only thing holding back receiving $2.3 billion dollars of funding was a unanimous vote at Windsor City Council. So, as someone who doesn't support the proposed location, I'm taking the meeting's outcome as a win.
Also, The Windsor Star, AM800, Blackburn Radio, and the CBC all neglected to include this startling bit of information that was made known during the marathon session of council:
Remember when it was normal for the media and the more fiscally conservative city councilors to hold the CEO of WEEDC to some degree of accountability?
You can hear CEO McKenzie's testimony for yourself. It can be found in the second video at around the 2:25 mark :
As I learned from this week's episode of Rose City Politics (the conversation turns to this matter around the 60 minute mark), WEEDC's board members are not selected through the same process as other city & county oversight boards are. Perhaps the matter of how this board is structured is worth re-visiting.
---
The campaign in favour of the location of the hospital was called We can't wait and it borrows from a tried and true playbook from our local politicians: create an artificial sense of urgency to bypass required consultations and consensus building within the community. We were given this reasoning with the WFCU Centre (we could lose the Spitfires!). We were given this reasoning with the Aquatic Centre (we are hosting FINA!) and we almost got an a canal and marina downtown when then-mayor Eddie Francis tried a last minute push through via a post-2008-crash government stimulus package proposal after it was twice rejected at City Council.
It is really quite remarkable about all the measures that could improve the quality of life at Windsor that always requires more study and what projects require no study at all.
---
Speaking of organizations that lobby city council, I think the City of Windsor should adopt a lobbying registry:
Between 2010 and 2014, Paul Bonwick earned more than $1 million for his involvement in deals made by Collingwood city council — almost half of what the town of about 22,000 paid in salaries in 2012 for its full-time staff.

The problem? Bonwick is the brother of then-mayor Sandra Cooper.

That's just one of the issues covered in a report, released last week, that was produced by a judicial inquiry into business dealings in the town. The 20-month-long inquiry focused on two transactions — the sale of a 50 per cent share of the town's electrical utility and a decision to award a contract to expand recreational facilities to one builder without considering other bids — and identified the lack of transparency about lobbying as a key issue.

Of the 306 inquiry recommendations from Justice Frank Marrocco, 29 relate to establishing and operating a lobbyist registry — something the town introduced this July, making it only the seventh of Ontario's 444 municipalities to have done so. "There's nothing wrong with [lobbying]," says Collingwood mayor Brian Saunderson. "But we need to understand who these people are and whose interests they are advancing."

'A cautionary tale': What this Ontario town can teach us about lobbyists, Mary Baxter, Nov 12, TVO
---
---
You hate to see an attempt to open a important conversation about a potential local civic issues on social media that gets immediately overrun with reply guys.
---
Speaking of local civic issues, the next Agenda of City Council includes
8.1. Capitol Theatre Legacy Grant Application
8.7 Parking Bylaw 9023 – Recommended Amendments on Sandwich Street (C 215/2020)
11.1 Contracting Out Caretaking Services – Phase II- City Wide (C 219/2020)
Of note, no protected bike lanes are being recommended for Sandwich Street despite resident feedback and that Sandwich Street is part of The Great Lakes Waterfront Trail [PDF].
---
Speaking of cycling…
And lastly something a little different. Over this past week or so, I developed a proof-of-concept map (using leaflet-omnivore) of bike parking in my neighbourhood that I collected in the field using a web-based form that captures both location data and a photo (using kobotoolbox).
The interactive map can be found at
http://atlas.aedileworks.com/bikeparkingwindsor/BikeParkingWindsor.html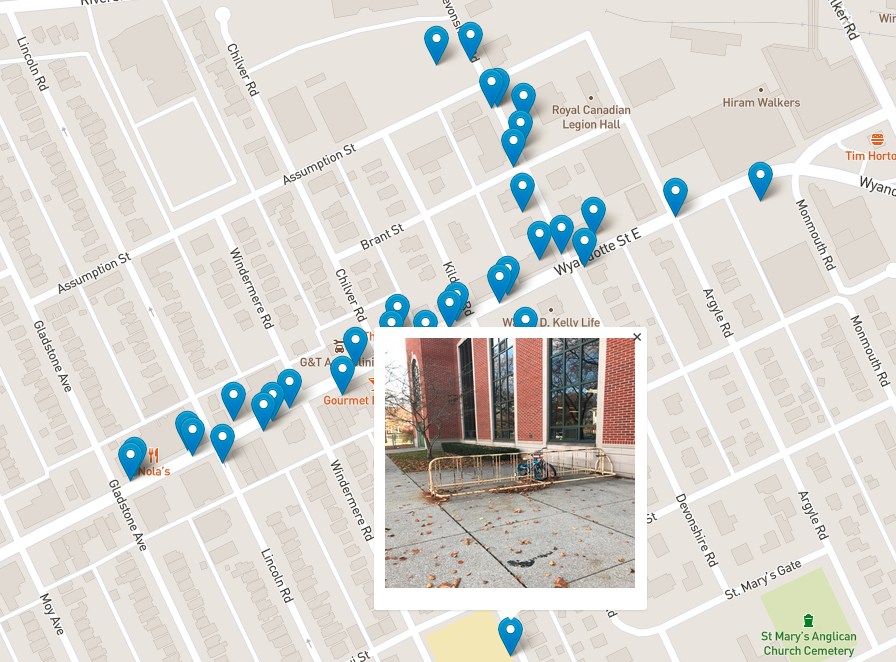 It admittedly doesn't cover a lot of the city but it was fun to make.