§1 Not your Asian sidekick
Let's talk about the shootings in Atlanta. Before I begin, I want to start with this guidance from the AAJA who have provided guidance on covering this story.
For an understanding of this hate crime in a Canadian context, I strongly suggest starting with Hannah Sung's newsletter issue titled, You'll need more than news / If you want to understand racism.
And you will indeed to need more than news. The first story from The Windsor Star of the March 16 shooting didn't appear until March 18; it framed the women from the point of view of the shooter, as a temptation.
Not surprised but disappointed.
Speaking of Postmedia…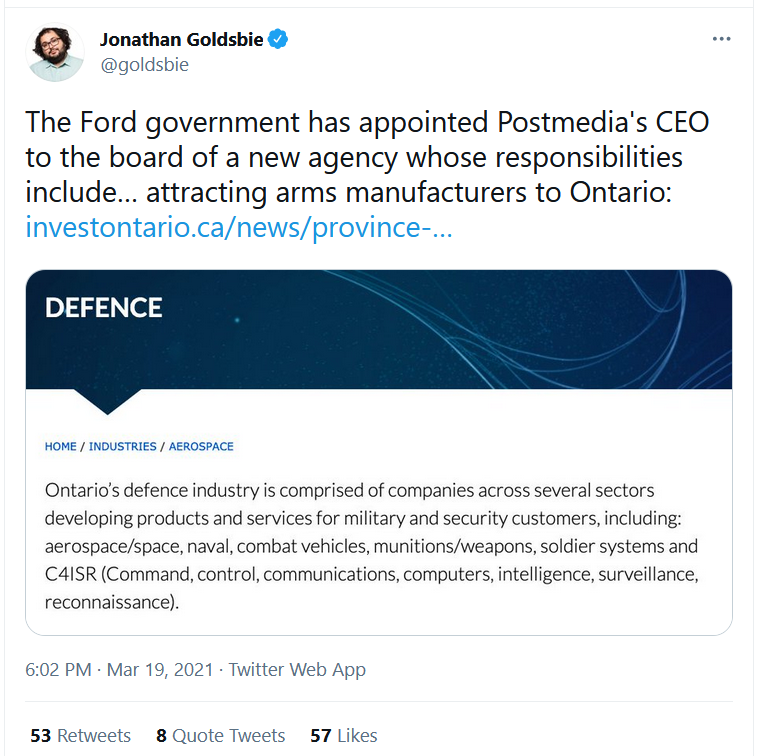 §2 Hate-crimes have no place
Now that we have set the context, can we talk about this?
Where to start? Maybe the bonsai tree? I mean, I think it's a bonsai tree. Maybe it's the Korean version (분재) or the Chinese version (盆栽) of this Japanese practice. Most of the victims of the Atlanta shootings were Korean so using this particular iconography feels off to me.
But what really feels off to me is the text '-Mayor Drew Dilkens' under the call to action to 'Stand Against Anti-Asian Racism.' He is literally centering himself in this issue.
Mayor Dilkens is the chair of the Windsor Police Services Board and as such, he could say much more about the rise of hate crimes towards Asians-Canadians.
Who are we standing up against? How do we address this issue? What does hate look like in our community?
§3 Can we recognize hate after it gets a makeover?
Remember when the first anti-mask and anti-lockdown protests began in our community? There were Trump flags, QAnon posters, and yellow vests.
In recent anti-lockdown protests in Edmonton (where there is currently no lockdown), there were tiki-torches.
There is a growing understanding that hate groups are using anti-public health rallies to spread their message.
Perhaps in response, local anti-public health activists have become more disciplined in their methods. At this week's local protest, protesters had professionalized their look with matching t-shirts and printed signs, placed themselves in front of the hospital for maximum outrage, and suddenly they became a collection of "a group of small business owners".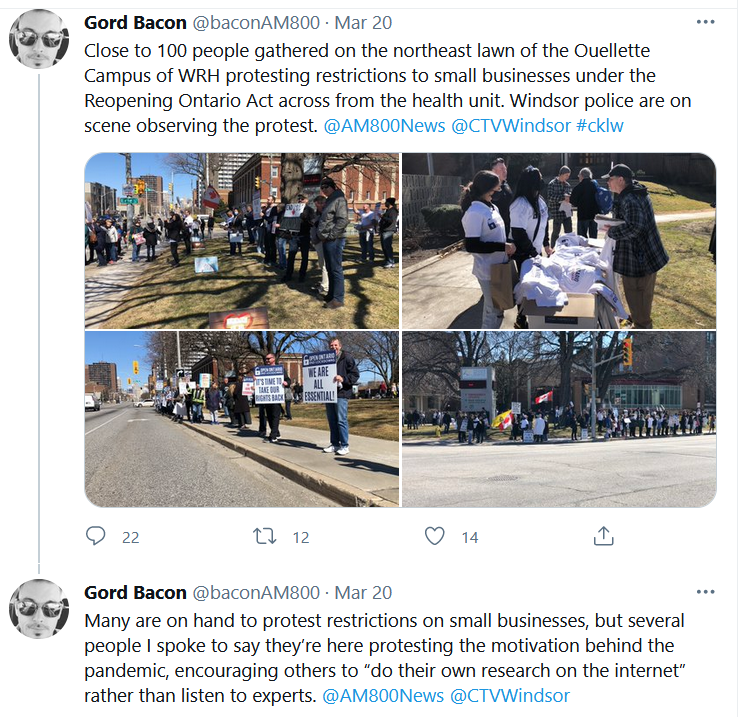 I can understand why they pretended to be small business owners. The demographic is the only one that Premiere Ford seems to listens to — instead of the experts.
As pandemic restrictions loosened for restaurants in several Ontario regions Saturday, at least one infectious disease expert warned that allowing more people to dine indoors amid the COVID-19 pandemic's third wave could lead to so-called super-spreader events.

Dr. Andrew Morris, medical director of the Sinai Health System-University Health Network's antimicrobial stewardship program, said the Ontario government's decision to significantly increase restaurants' indoor capacity in two zones of its colour-coded pandemic response system at this time is "baffling."

The risk of transmission grows when more people are indoors without masks, particularly given the presence of more contagious variants of the virus, said Morris, who also teaches medicine at the University of Toronto.

Allowing more people to eat indoors could spur super-spreader events, Ontario doctor warns
By Paola Loriggio, The Canadian Press, March 20, 2021
§4 Next City Council Meeting is Monday, March 29, 2021
I was reading through the Agenda for the upcoming Monday, March 29, 2021 council meeting and this table caught my eye:
What I find particularly troubling is that I recently tried to contact the public members on the Windsor Police Board with a particular concern and found that I could not do so directly. The only way to contact these public members is through the board's Administrative Director. Why are these members paid so much and yet so inaccessible to the public who's interests they are supposed to represent?
There's lots more in this Agenda, including a proposal from Windsor Salt and another pertaining to an escooter and e-bike service. I might write more about those next week.
§5 Explore Home from Home
The Windsor Jane's Walk Festival 2021 is Friday, May 7th to Sunday, May 9th.
Windsor will be a part of a global weekend of free, citizen-led walking tours celebrating neighbourhoods.
This week I submitted my walk proposal. It's not too late for you submit yours!